Ref:
Date:
Location:
Photographer:
Ref:
Date:
Location:
Photographer:
It is surely appropriate that the very first Cesky Terrier to arrive in Great Britain was
Erb Lovu zdar
, bred in the then Czechoslovakia by František Horák himself. Erb was imported by Harold and Liz Gay
(Malsville)
who did all the early research on the breed and imported another 5 Cesky Terriers as well, choosing from as wide a gene pool as possible, in order to give the breed a sound base in the UK.
Erb came to the UK on May 1st 1989. He was quarantined at the Granary Kennels by Jane Withers
(Pajanticks)
and later joined another of the first imports,
Doris z Antuszy at Malsville and Ridley
from Poland, as the start of Sheila Atter's
Ridley
Cesky Terriers. Since 1989 there have been 35 imports - from Poland, Germany, France, Belgium the Netherlands, Canada and Estonia as well as from the breed's homeland, now known as the Czech Republic.
Of these, the first to make his mark, both in the show ring and at stud, was the German-born
Ars Amandi von der Eidertalwiese
. He was shown only in Imported Register classes but was quickly admired for his style and showmanship. As a stud dog he was very influential - partly, perhaps, because Erb proved not to be successful in that field, and Amandi was the only other male in the UK at the time! Mated to Doris he produced
Ridley Adam
, who was in turn mated to Norina Evans'
(Pendevour)
foundation bitch,
Ridley Bystra of Pendevour
, Top Dog 1994/5/6/7 (an Amandi daughter out of the Czech import Mala) to produce
Pendevour Aristocrat
. Mated to Sue Fewings'
(Komidion)
foundation bitch
Ridley Charlotte
(out of Doris by the quarantine-born Mala son,
Malsville at Last
) Aristocrat was the sire of
Komidion Bohemian Bliss at Vandell
, BOB on the first occasion that the Cesky Terrier was shown at Crufts (2001) where she was short-listed in the Group.
Mated to Brenda Jones'
(Zippor)
foundation bitch
Malsville Angel at Zippor
(quarantine-born out of Mala), Amandi was the sire of Betty Rice-Stringer's
(Kennelbourne)
first Cesky Terrier,
Zippor Simone at Kennelbourne
, who was, in turn the dam of
Kennelbourne Wizard of Oz
, runner-up at the Contest of Champions in 2000.
If Amandi was the foundation sire of the breed in this country, the bitch that was to have most influence was
Mala del Monte Malsville for Ridley
.
Dam of the quarantine-born Malsville 'A' litter, she then produced the Ridley 'B', 'D' and 'F' litters, by Amandi, Adam and the Czech import
Impuls Kirke
respectively.
On January 1
st
2000 the breed came off the Imported Register and was granted Rare Breed Status. Its impact was felt immediately, as on January 2
nd
Norina Evans' home-bred
Pendevour Dion
(by her German import
Andras Andel of Pendevour
out of Bystra) took the Cesky Terrier's first BIS award in the UK.
Since then, many other Cesky Terriers have achieved good wins at Open Shows, amongst them Phyllis Taylor's
Pajantick Charza at Polede ShCM
(by the French import
Nelson du Domaine de la Tourne-Pierre
ex a Ridley Felix daughter), the first Cesky Terrier to win the Show Certificate of Merit and BOB at Crufts 2006. At Championship Show level several have been short-listed, and Charza, Sharon Clark's
Cassencarrie Czech Me Out ShCM
, BOB Crufts 2007, and bred by Beverley Deacon
(Cassencarrie)
, another of the early pioneers of the Cesky Terrier in the UK, Wendy Tobijanski's
Janski Celtic Ceska
, BOB Crufts 2009,'10,'11, and Sally Brown's
Lastarean Dufek ShCM
, BOB Crufts 2008 have taken Group placings to date.
Ceska
, Biddy Horn's
Woodstrode Abba Ridley
and Sheila Atter and Helen Moffatt's
Emily Day Break
(imported from Poland) have qualified for the National Terrier Open Show Dog of the Year Competition.
Of the later imports, the most successful in the show ring have been Sue Fewings'
Twister Kvítko Komidion
(bred by Horák's daughter, Jitka Paulínová) who was BOB at Crufts in 2002, and sire of the Crufts 2005 BOB, Judy Lewis'
Komidion Fanfare Dajaces
(out of Bohemian Bliss)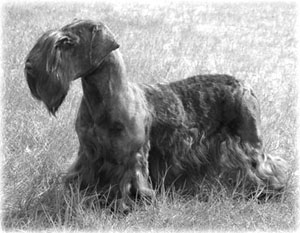 and Sheila Atter's
Gloria Kvítko ShCM
, Top Dog (DW Competition) 2008 and several times short-listed in the Terrier Group at Championship show level.
Other Crufts BOBs are Jane Withers' imported
Collin z Vrculky at Pajanticks
(2003) and Ulrike Pignon's
Caruso vom Lichtblick
from Germany (2004)
The most influential brood bitch imported in recent years has been
Int. Ch Drahoušek Brusinka del Monte at Oneva
, owned by Doreen and the late Hugh Bright
(Oneva)
, who has produced several excellent examples of the breed, and is the dam of
Oneva Demon Malsville
, Top Stud Dog 2005/6/7 (by the imported
Nor del Monte Kvítko at Ruomyes
).
Demon is the sire of, amongst others, Sally Brown's CAC-winning Dufek, Top Dog 2006 and Crufts BOB 2008, and Wendy Tobijanski's
Zippor Acacia at Janski
, BOS Crufts 2005.
In other disciplines the Cesky Terrier is also successful. The Marett family have had great success in agility competition with
Lastarean Kral of Zidout
, whilst their
Ridley Javor
was the first Cesky Terrier to win the KC Good Citizen Gold Award. Russell Marett and
Gayteckels Highflyer Pd'H
won the Terrier Group of the YKC Stakes at Crufts 2005, and Tieryn Clark and Cassencarrie Czech Me Out ShCM were 3rd in the JHA Association Finals, 2006. Mark Elliott's
Veltrusy Bekasina
is a successful worker, tracking deer in the manner traditional to the breed.
With a total of 35 Cesky Terriers imported to date, plus one, (Liana Kapustina's
Milenka's Hector in Act Four
) that visited the UK in 2007 for a year, and around 600 Cesky Terriers born since the arrival of Erb in 1989, the future for the breed in the UK is looking bright. Already admired as a show dog, its temperament, size and intelligence are being appreciated in the fields of agility and obedience and as an ideal exhibit for junior handling, whilst the Cesky Terrier is also, of course, an ideal family pet.
In the UK
The first Cesky Terrier arrived in the UK on May 1st 1989. In the twenty years since then the breed has come a long way.